Do you need some expert advice on how to transform your garden or green space into the wildlife-friendly haven of your dreams?  Maybe you are a potential backyard farmer but don't know where to start? Perhaps you want the best of both these worlds? Get it touch to discuss how we can help.
This new service caters for households, community groups in need of support to realise a project, and institutions that want to improve the biodiversity and fruitfulness of their land.  
Regather's garden design service brings ecological planting and practical approaches to food production together.  Whether you are thinking of growing your own vegetables, planting fruit trees, building a pond or making a meadow, we can show you how to combine the elements that create a vibrant and biodiverse garden or green space.
Here's some photos and design drawings from previous projects undertaken by Regather's new Garden Service Manager.
Food Works farm
Food Works Farm is an allotment sized plot producing nature-friendly food for use in their community kitchens. In the space of just under a year, this garden went from weed-covered patch to a high-yielding plot using a crop rotation system.
Read more about the farm here.
Food growing community garden
Kenwood Community Growers took on the old kitchen garden at Kenwood Hall Hotel and produced hyperlocal food, all grown by volunteers, for use at Food Works' Sharrow kitchen.
The design included a full survey of the site conditions, recommendations for locating new veg beds and detailed planting plans for the volunteers to follow.
Read more about the garden here.
Israac Somali Centre planters
Israac is located on a busy junction of Cemetery Road. Where better to install some edible raised beds for engaging passersby with the idea of food in urban landscapes?
This was a design and build project created through Regather's community gardening volunteer sessions that took place in 2021.
Read more on Israac here.
Rear garden design
This design was commissioned by a private client who wanted to make their garden more attractive to wildlife while also making room for some low maintenance edible plants.
After the garden visit, the client was given planting recommendations, including native species, which would suit their garden's aspect. They also received advice on the best spot to locate a wildlife pond.
Pond making workshop
Heeley and Meersbrook Allotment Society commissioned a hands-on practical wildlife pond building workshop.
The pond was designed following criteria that make it suitable for hibernating frogs. Selected plants were all native species suitable for a small low-maintenance pond.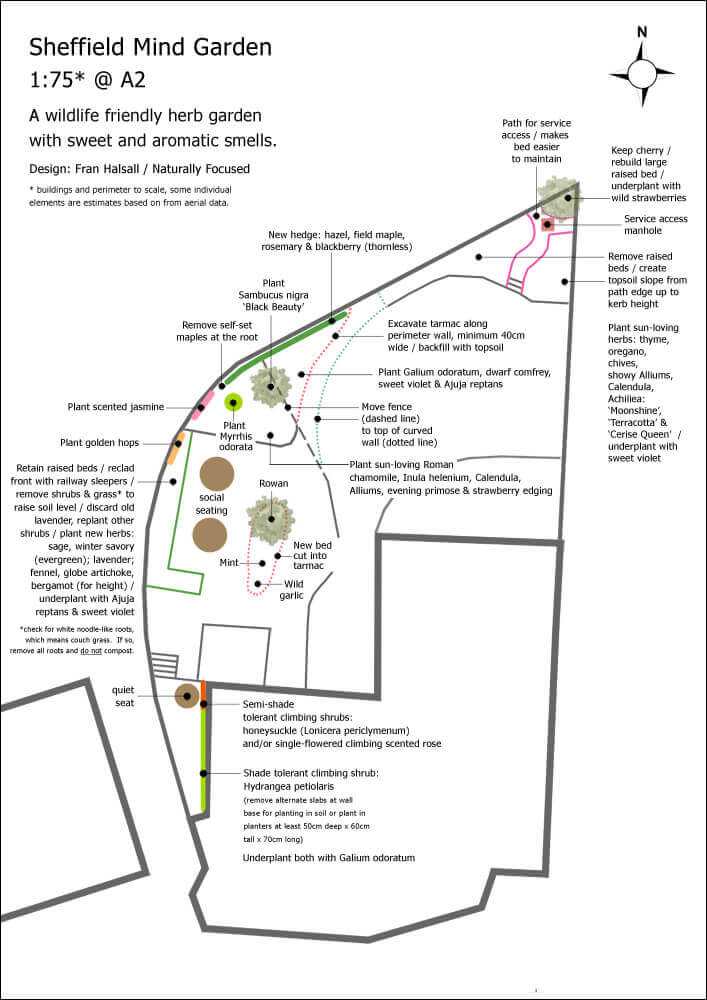 Edible and aromatic herb garden
This is a concept drawing that came out of a collaboration with Arts Catalyst who are leading the redesign of Sheffield Mind's Sharrow garden.
The planting scheme focuses on edible and aromatic herbs that are known for their wildlife value and are safe for use in a public setting.