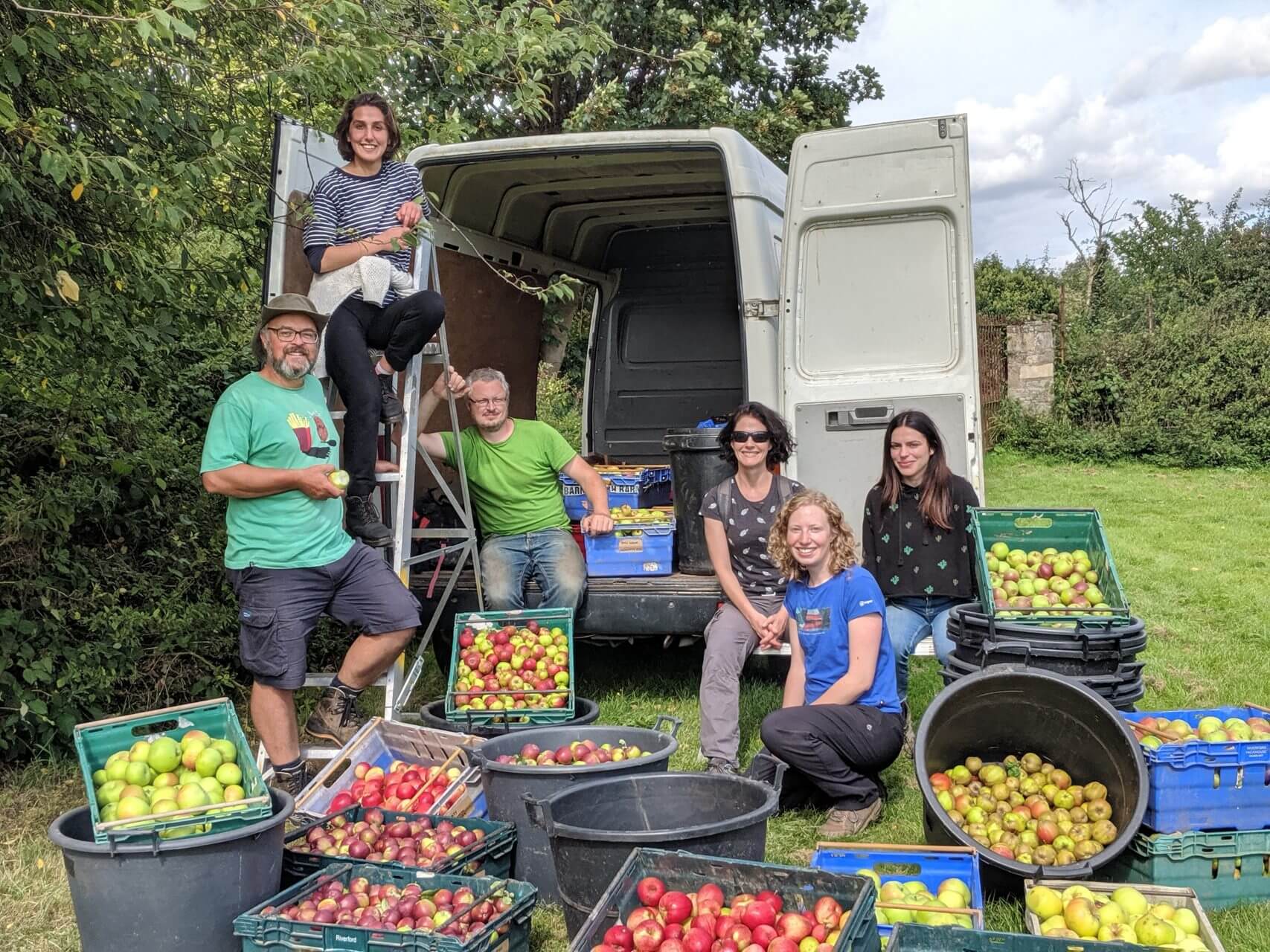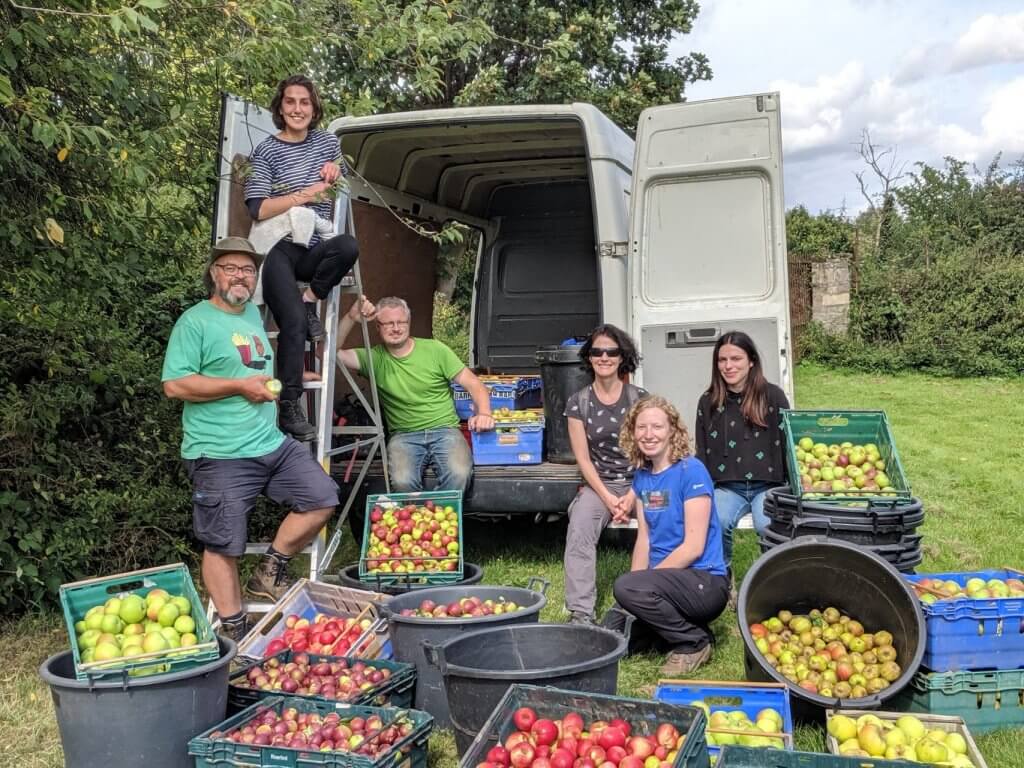 Regather Community cider relaunches for 2019. Last year we wanted to try a new approach to making sure many of Sheffield's urban apples don't go to waste. As it was a success we're giving it another go. The UK produces excellent crops of a wide variety of apples each autumn. But with so many apples being ready in one go simply scoffing them isn't always an option. Traditionally bumper crops of apples were made into cider and we want to explore ways in which we could make this happen in Sheffield. We offer a way for people to make sure their extra apples don't go to waste, and apple donors get some juice or cider in return for their generosity. Just get them to us with one of the three options outlined below and we'll do the rest!
COMMUNITY CIDER HARVESTING: GOLDEN RULES
Please remember we cannot process rotten or mouldy fruit. Freshly picked, ripe fruit is best.
If you pick and store your apples before we can use them then please check for any rotten or mouldy apples. Some light bruising, stalks and leaves are all fine.
Windfall apples are fine as long as you don't have pets roaming the garden.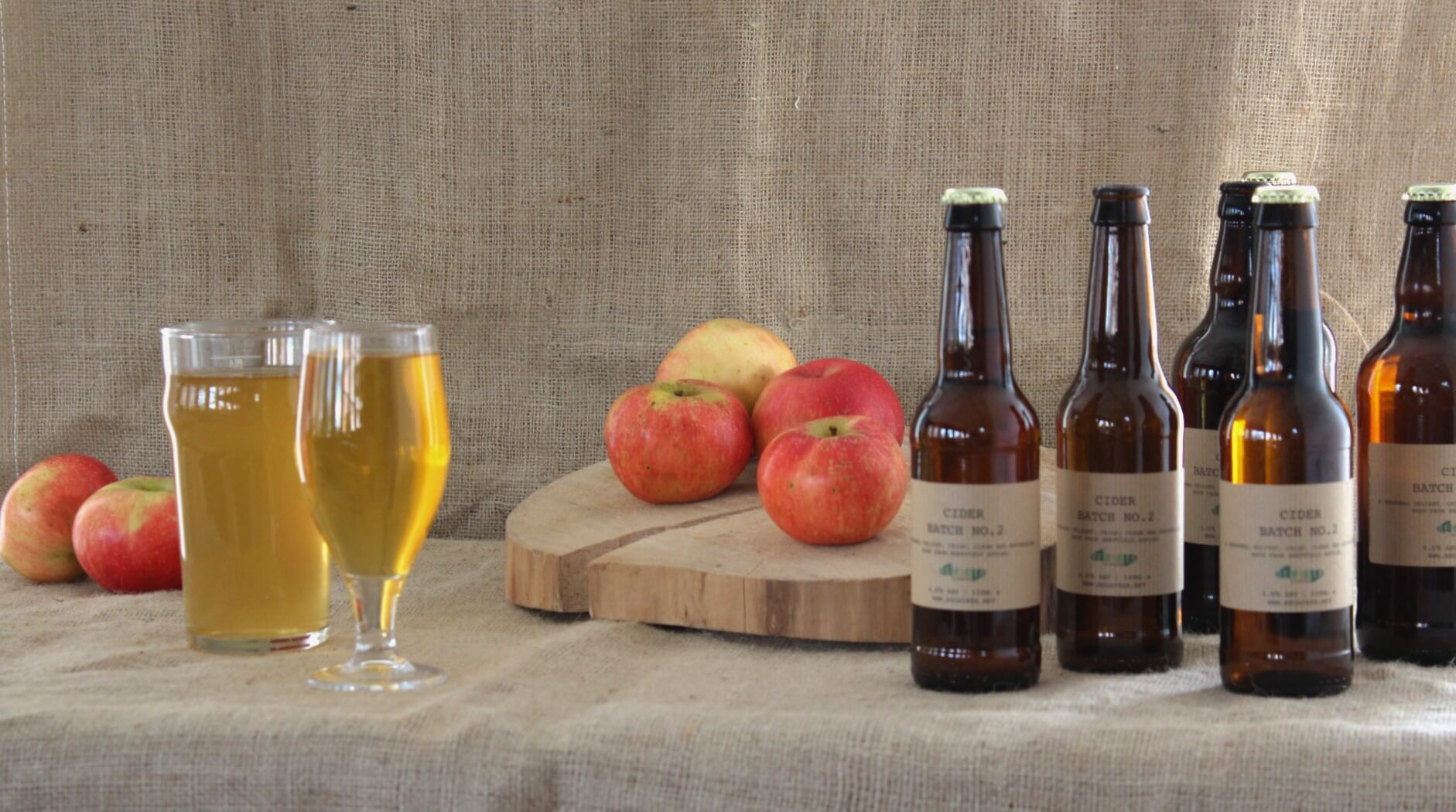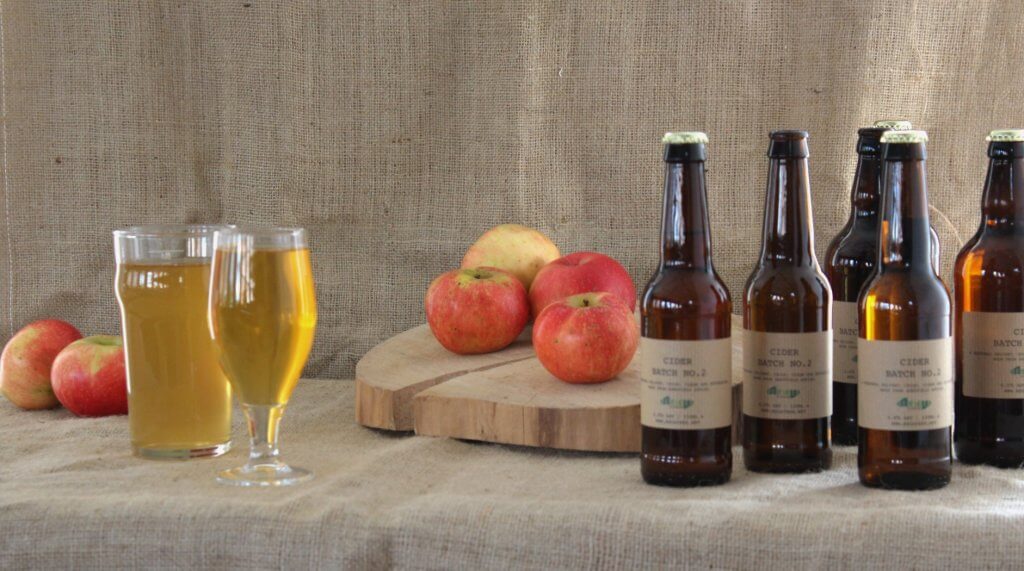 HOW IT WORKS: 3 OPTIONS
1) You bring the apples to us.
Bring us your apples and we will give you 25% of the volume of juice as fresh juice on the day.
Bring them to: Regather Works, 57-59 Club Garden Road, Sheffield, S11 8BU
Weighing Your Fruit
When you bring your apples to us we will weigh them, this is called the 'Dry Weight'.
We estimate that we can extract 50% of the juice from your donation and this is called the 'Wet Weight'.
As an example
You bring us 50kg of fruit…
We guarantee that we can extract 25 litres of the juice from these apples.
You get 25% of that 50 litres bottled fresh juice for on the same day.
The Regather team aren't always in the Regather Works building, please call or email us to arrange a time when you can drop off the apples. Call 0114 273 1258 or email [email protected]
2) We collect the apples from you.
If you can harvest the apples but need us to collect them we'll give you 20% of the volume of fresh juice on the day. Please contact us on 0114 273 1258 or email [email protected] to arrange collection.
3) We harvest and collect.
If you need us to harvest and collect the juice then a very big thanks for donating your apples, they've been put to good use but we can't offer any juice back in return. We can however offer some free cider in return in the spring.
Cider can be ready around Christmas ( mulling at Christmas should also be a great option) but it's far far better to wait until the spring when the cider has had a good chance to mature. Waiting until the following autumn is even better as a secondary fermentation can take place inside the bottle giving even better flavour. Our natural cider is a living fermented product and there may be some sediment at the bottom of each bottle so please pour carefully.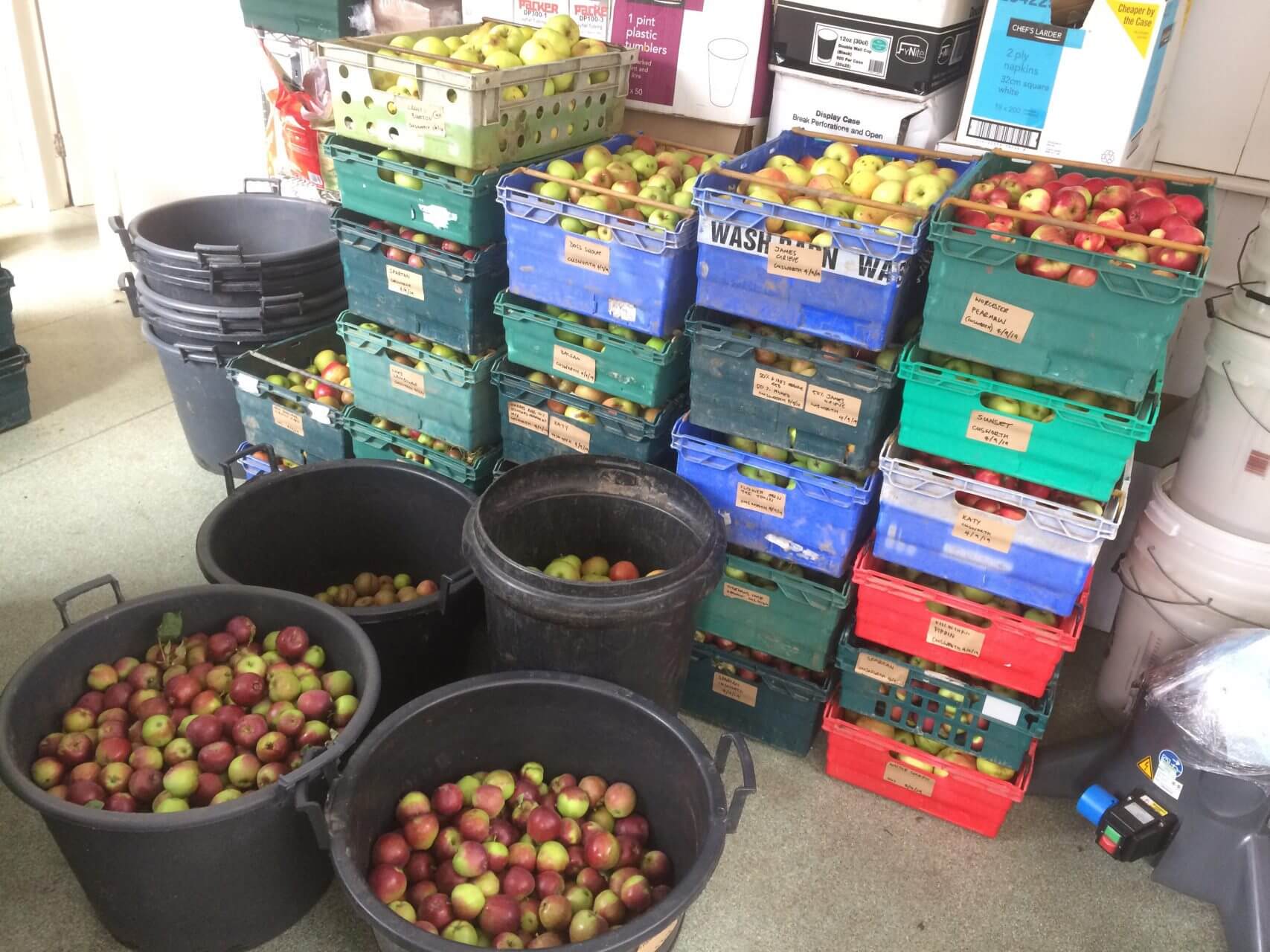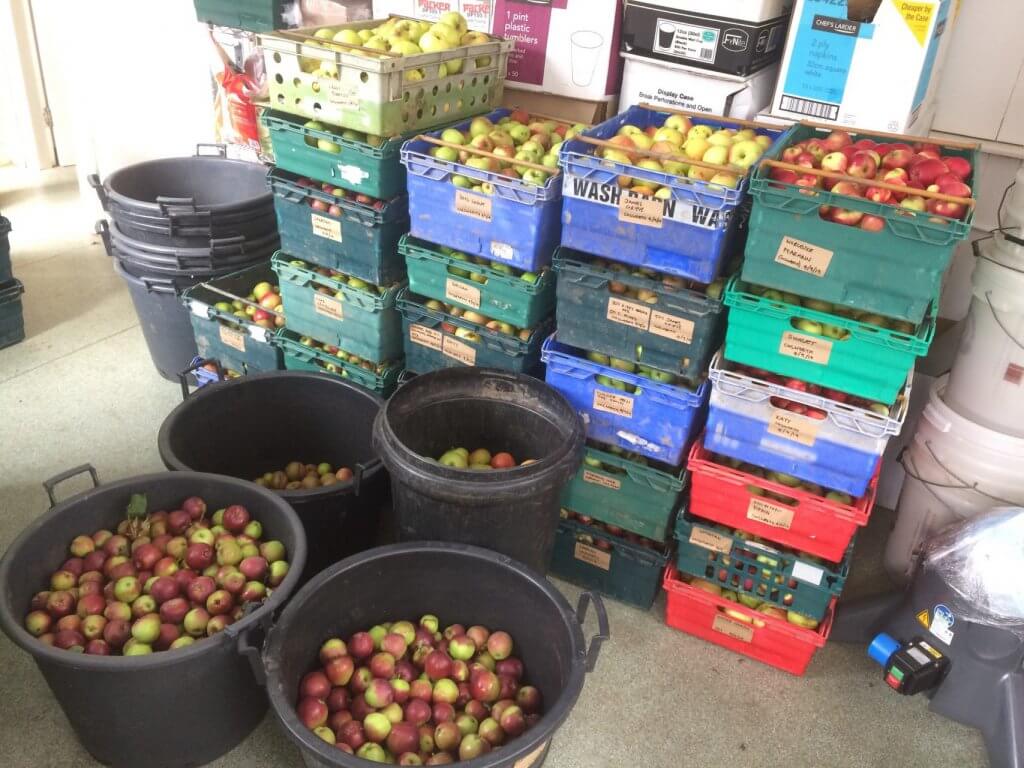 FAQ's
What do I get if I donate apples to you and is there a minimum amount?
In year one we can offer delicious fresh juice on the day of pressing. If you want some juice in return for a donation you'll need a minimum of 10 kilos.
Can I join in on the juicing?
Yes, we love for people to get involved. Juicing is quite a lot of work so if you'd like to help out on the day we'll have volunteer forms ready for you.
Why do I only get 25% of my wet weight?
We've invested a decent amount of time, effort and cash into getting the project up and running and so hopefully this sounds like a good deal. As ever we've got lots of running costs, staff time and all plenty of organsing to do and overheads to cover. We like to think that we aren't depriving the good people of Sheffield form their apples, but instead making a great product people can enjoy out of apples that would usually go to waste.
I've made an apple donation why can't I have cider in return?
This is our first year at making community cider and the cider won't be ready until the spring. We'd much rather you got something to take away on the day. Hopefully by next year we'll have the option of juice or cider.
How long will the juice keep for?
We'll be making fresh, unpasteurised apple juice. It's at its most delicious drunk on the day but kept in the fridge it should last for a couple of days.
When will you have cider ready?
All going well we hope to have some cider ready in the spring of 2019. Fermentation finishes after a month or so but it's best to let the cider mature for several months. Traditionally when the apple trees are next back in blossom.
When do I get my juice?
If pressing is going to plan we' will have your juice ready on the day.
How do I know my apples are ripe?
Most varieties are ready when they come away from the tree with a simple twist of the stalk and their pips are dark brown in colour, not white. Apple trees will often drop some of their crop naturally but you're likely to notice if you have a pile of apples under your tree, especially during bad weather and strong winds. In fact one of the best ways to strip your tree is to give it a really good shake on the day you want to pick and bring your fruit to us.
Do you take fallen or bruised fruit?
Any fruit is good for cider making as long as it is not rotten. Please try to keep the best and worst ones separate (it makes sorting easier when we prepare fruit before pressing). Important note about pets. If you have dogs, cats or other pets that roam about in your garden please do not bring us these fallen (windfall) fruits – only those picked from the tree will do. The same applies for wild fruit if you think there is the potential for animal faeces to be under the tree.
Do you accept other fruit?
Pears (not to mushy) are great additions to traditional apple cider. Please bring any along and we'll add them to the mix. Crab apples can also work as adding a few will boost tannin levels needed for great tasting cider.
What types of apple do you accept?
All types of apples are great, a good mix of varieties gives the best results. Cookers and eates are all welcome as they help balance sweetness and acidity. Even apples you wouldn't consider eating are good (as long as not rotten of course). In fact that's what's great about cider so few go to waste. Any proper cider varieties are fantastic just a few can transform the quality of the finished product.